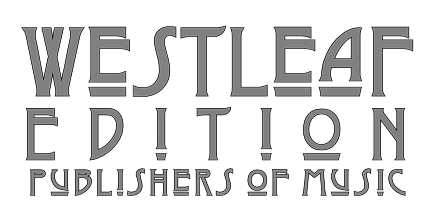 Established 1973
Westleaf Edition is a member of the
American Society of Composers, Authors and Publishers
---
Gilles Yves Bonneau
Gilles Yves Bonneau died on Christmas Day, 2002. We deeply feel his loss.
Gilles Yves Bonneau was born in St. Jean, Québec in 1941, lived in several countries, and became a U.S. citizen. Careers for survival income were numerous (from administrator to laborer), with the consistent focus on composition. Musical studies were pursued in Montréal, Vermont, and Boston's New England Conservatory.
At his death, Gilles left some 300 pieces, in many combinations and styles, the body for chamber ensembles and soloists, including also two symphonies and a cantata of epic proportions. Major features of his work are Bach-like counterpoint and French-influenced lyricism, in delicate intimacy and intricacy. He served as Treasurer and Director of the Consortium of Vermont Composers. Some of his music has reached New Orleans, Seattle, Tokyo, and Europe. He last lived in Seattle after finding direction and happiness. The composer said that one of his greatest goals was the universal sharing, understanding, and growth from his works.
Two interviews with Gilles Yves Bonneau can be heard on Kalvos & Damian's New Music Bazaar.