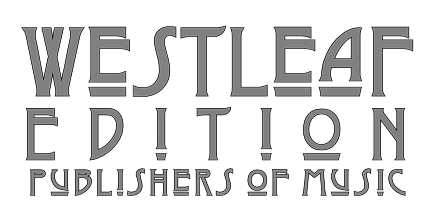 Established 1973
Westleaf Edition is a member of the
American Society of Composers, Authors and Publishers
---
David Ross Gunn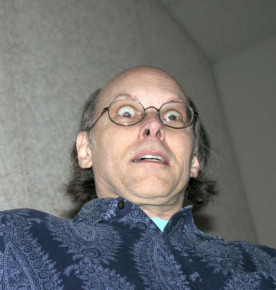 David Gunn began his musical training at Settlement Music School in Philadelphia, studying piano and percussion. He later graduated from the Ohio State University with a degree in music composition. In 1992, the Vermont Contemporary Music Ensemble (VCME) commissioned the first of numerous pieces from him for the New Music Across America series. Since then, the ensemble has performed his music dozens of times in concert and on public radio. In 1997-98, VCME recorded a CD of 16 of his compositions entitled "Somewhere East of Topeka." Albany Records released the CD in January 2003. Brisk sales are anticipated any day now.
Besides VCME, Gunn has been commissioned by the Vermont Symphony Orchestra, the Vermont Youth Orchestra, Ethel, Essential Music, the Montpelier Chamber Orchestra, Acolade (sic), and Social Band, among others. In Vermont, the Onion River Chorus, Bayley-Hazen Singers and Sounding Joy! have performed his vocal music. His compositions have earned him an ASCAP pecuniary award every year since 1997.
2004 (the year, not the number of peas in a vat of Green Giant Mixed Vegetables) is turning into a propitious year for Gunn. In March and April, string bass virtuoso and composer P. Kellach Waddle premiered his Contra Dictions for solo contra bass in Illinois, Indiana, North Carolina and Virginia. Also in April, VCME director Steven Klimowski performed l'histoire du clarinette, a whimsical revisionist chronicle of the clarinet that includes narration, slide show and the occasional sight gag. Ethel, "America's hippest string quartet," premiered Incandescendence in May. In August, the Vermont Youth Orchestra performed Urban Renewaltz, a fanfare commissioned in 2001 to inaugurate the Elley-Long Music Center. The 95 musicians will reprise the performance in September at Carnegie Hall in New York and also in Burlington, Vt. In October, VCME will twice perform 400 owls attempting to outwit a giant badger in the rain, a clarinet-piano fantasy. At the first concert, the Vermont Arts Council will award Gunn the coveted (by some) Citation of Meritorious Service to the Arts. (No, it wasn't an administrative error. It's all about "possession of negatives.") Later in the month, Gunn's music will comprise the second half of "The Libra Concert: A Balance of Past and Present." It will include four (yes!) premieres: Utopiano, for solo piano; Forbidden Flute, for flute and piano; and Out of Cahoots and Autumn Attic, both for two pianos. There's a possibility that a reduced-force Vermont Youth Orchestra will close out the concert with yet another whoop-generating rendering of Urban Renewaltz. Wait, we're still not done! Also in the autumn, the University of Vermont Percussion Ensemble will premiere Locomotives stalking a leopard in a china closet. And maybe Social Band will sing his just-completed Tempest Fugit, an a cappella song about slugs. As of late August, he was also writing a piece for violin and cello called Frangipanika. No commission involved - he just felt like doing it.
Gunn currently co-hosts the award-winning (2000 ASCAP Deems Taylor Internet Award) weekly radio show, Kalvos & Damian's New Music Bazaar, now in its tenth - and, unless it's picked up by an arts syndicate with deep pockets (read "able to pay hosts' salaries"), last - year. He is also a writer (480 weekly radio show essays and counting) and humorist, and was, until this very moment, covert emissary from the planet Zombocartumia in the Crab Nebula. He lives simultaneously in Barre, Vermont and in hope of, in order, peace on earth, good will towards men, and a pile of cash in the bank.